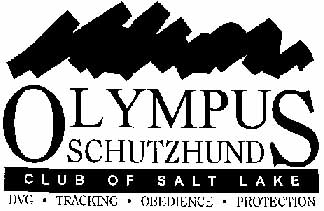 Olympus Schutzhund Club of Salt Lake (OSCSL) is a affiliate club of DVG (Deutscher Verband der Gebrauchshundsportvereine) which was formed in Germany in 1903. If you are interested in joining our club, please contact: Cindy Starley
Interested in forming a DVG club in the Western United States? Contact Western Region Vice President/New Club Secretary-Paulette Bethel
BOARD of DIRECTORS
President: Cheryl Weaver: RotNDog@aol.com. Cheryl is also the Western Region Secretary.
Vice President: Paulette Bethel: dobrdam@firstworld.net Paulette is also Western Region Vice President and New Club Secretary for the Western Region.
Secretary: Cindy Starley: Cheyzmom@home.com
Treasurer: Eugene Gelhard
Training Director: Don Weaver: Engraveall@aol.com
Helpes:: Glen Crawford, Jon Cox MC0815@Gateway.net Don Weaver: Engraveall@aol.com
Look below for informational links. We are also very proud of past, present and future title holders and their dogs, so we've added some statistics and picture of them working. Just click on any of the title bars below.
HALL OF FAME
PRESENT TITLE HOLDERS PICTURE GALLERY
FUTURE TITLE HOLDER PICTURE GALLERY
CURRENT EVENTS
GERMAN COMMANDS & TERMINOLOGY
Send comments or your link information to dobrdam@firstworld.net
Background photo copyright 1998 by Michael J. McDermott
-DO NOT REPRODUCE OR TRANSMIT WITHOUT PERMISSION-
Original webpage design and graphics copyright 1998 by Liz Bauer